Introduction :
A sewing machine is a machine used to stitch fabric and other materials together with thread.
At first, sewing machines were invented to decrease the amount of manual sewing. Thus, cutting the labour cost. Since then, the sewing machine has greatly improved the efficiency and productivity of the clothing industry.
On the other hand, home sewing machines were designed for one person to sew individual items while using a single stitch type. Making it easier for household to sew or alter their own clothing.
As conclusion, Industrial sewing machines, by contrast to domestic/portable sewing machines, are larger, faster and more varied in their size, cost, appearance and task.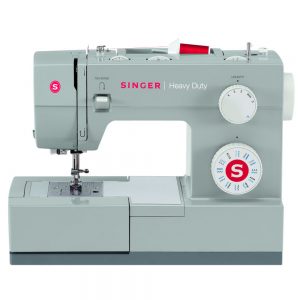 *picture of a domestic/portable sewing machine singer 4432 heavy duty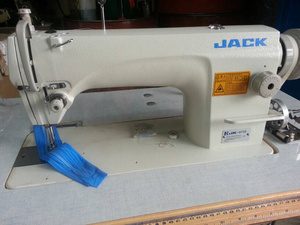 *picture of industrial sewing machine
Designs :
Sewing machines can make a great variety of plain or patterned stitches. Recognized by the ISO 4915:1991 standard, there are over three dozen distinct stitch formation. involving one to seven separate threads to form the stitch. Plain stitches fall into four general categories which is chainstitch, lockstitch, overlock and coverstitch.
Chainstitch :
chainstitch was used by early sewing machines and has two major drawbacks :
1. The stitch is not self-locking, means it need to be manually lock by reversing the stich once or twice. Otherwise the whole length of stitch comes out. it is also easily ripped out.
2. The direction os sewing cannot be altered from one point to the next. or the stitch will easily ripped out.
A better stitch would be the lockstitch. Though due to its major drawbacks, its still generally used paired with an overlock stitch along the same seam.
Lockstitch :
Lockstitch is the familiar stitch performed by most household sewing machines and most industrial single needle sewing machine from throw threads, one passed through a needle and the other coming from the bobbin. Each thread stays on the same side of the material being sewn, interlacing with the other thread at each needle hole by means of a bobbin driver. As a result, a lockstitch can be formed anywhere on the material being sewn; it does not need to be near an edge.
Overlock :
Overlock, also known as serging, can be formed with one to four thread, one or two on the needle and the others on their respective loopers. Overlock machines are equipped with knives that trim or create the edge immediately in front of the stitch formation. Household and industrial overlock machines are commonly used for garment seams where the fabric is light enough that the seam does not need to be pressed open, and for protecting edges againts raveling.
the most commonly used are three threads. for normal serging and four for fine serging.
Coverstitch :
Coverstitch is formed by two or more needles and one or two loopers. Unlike Overlock, Coverstitch has no blade as they serge anywhere on the material being sewn. One looper manipulates a thread below the material being sewn, forming a bottom cover stitch againts the needle threads. The needle threads form a parallel rows while the looper below cross back and forth all the needle rows. Coverstitch is so-called because the grid of crossing needle and looper threads covers raw seam edges, much as the overlock stitch does.
Industrial vs domestic :
Industrial sewing machines are larger, faster and more varied in their size, cost, appearance, and task. Industrial machines, unlike domestic machines, perform a single dedicated task and are capable of long hours of usage.
On the Contrary, Industrial machines are heavier and takes alot more space than domestic machines. its much more heavier. The motors on industrial machines, as with the most of their components, lights, etc. are seperate, usually mounted under the table.
Famous and trusted brands of sewing machine in Malaysia :
1. Singer
2. Brother
3. Juki
4. Janome
5. Toyota
6. Typical
7. Jack
8. Global
get your sewing machine now! purchase at www.jahit.my